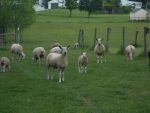 Long Business Description
A unique farm with registered Blue-faced Leicester sheep. We have a small flock - 8-12 sheep only. Lambs arrive from late March to end of April and are for sale and ready to go by June. The ewes and ram are chosen for: fleece luster; fiber strength; consistency of fiber throughout the animal; conformation (I tend to like the sheep to be substantial throughout the back and hind end as well as length of the back). Our sheep have great length without the "swayback".
The sheep share their pasture with Traveler, a Tennessee Walking Horse whose job is to herd and protect the sheep. All our sheep are covered year-round to protect their fleeces.  Most of our fleeces are shown and sold either privately, or at the Maryland Sheep and Wool Festival. We have won 1st place in the Bluefaced Leicester division of the MSWF from 2013 to 2018, in 2017 we were Reserve Grand Champion Fleece! If you are interested in clean, lustrous wool with amazing crimp that will create a wonderful draping garment, then contact us for fleeces. We also have breeding stock lambs for sale as well as young market rams for slaughter.  Check us out on Facebook (under Margie Smith) or our website: marlindalefarm.net for updated information.
Short Business Description
Lambs, fleeces for sale - limited number so get in touch with us early in spring.
Business Address
45 Robinson Drive
New Oxford, PA
17350