Featured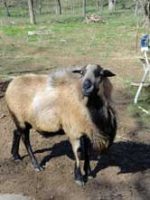 Long Business Description
30 Registered Barbados Blackbelly Hair Sheep, plus 26 lambs that need homes.  Can provide breeding stock and 4-H club lambs.
Also raise Standard Bronze, Royal Palm and Bourbon Red Heritage Breed Turkeys.  Call to place your order.
In addition to the turkeys, have Blue Shoulder and White Peafowl (peacocks and peahens); plus, 3-4 colors of guineas.
Old Forge Farm is a historic farm, with a two-story, three-bay field stone house, built in 1762 by George French, then purchased two years later by the Hughes family, and near the site of their iron plantation.  Old Forge produced nails and tacks; had a grist mill, lumber mill, a stone duplex, and other structures to support the industry.  Old Forge Farm is listed on the National Register of Historic Places.
Send Message to listing owner