Featured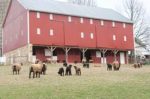 Long Business Description
Farm is located in the "foothills" of Sugarloaf Mountain.  30 breeding ewes - primarily a handspinners flock.   Specialize in natural colored long wool, with a few white ewes, most are crossbred.   Breeds are Romney, Border Leicester, Corriedale, some Lincoln.
Lately have brought in some Romeldale and Wensleydale influence to incorporate Moorit colors into our flock.
Have won Best Maryland Fleece at the MS&WF in 2006 and 2010 (Fleece Show and Sale).   The Fleece Show at the Maryland Sheep & Wool Festival, held every year the first full weekend in May.
We sell breeding stock, custom-butchered lamb, sheepskins, roving, as well as raw fleeces.
In addition to laying hens, and peafowl (peacocks and peahens);  we raise many varieties of heirloom tomatoes and other vegetables.
Photo:   Barn lovers will like the nicely done restored bank barn.
Send Message to listing owner