Featured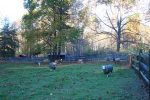 Long Business Description
Hidden down a private lane in Woodbine, Maryland, Basking Meadow Farm provides home to eight sheep and two goats.   The flock grazes on gently rolling pastures that are dappled generously with mature tulip poplar, cedar, and white pine.
Registered Border Leicester and Border Leicester/Blue-Faced Leicester crosses are the breeds on the farm.   The sheep are covered with coats throughout the year, protecting the fleece from vegetable matter and bleaching sun.  The coats are changed regularly to allow the locks ample room to grow.   The result is clean, soft, lustrous fleece perfect for spinning and other crafts.
The ewes are bred to healthy, quality rams in November, and the offspring with the most beautiful fleece are kept for future breeding.   The remaining lambs are available for purchase by those who wish to expand their own flock or who appreciate the delicious taste of naturally-raised stock.
The gates at Basking Meadow Farm are always open to visitors.   Come and see how this small operation, established in 2013, has evolved from a life-long dream into reality.
Products & Services:
Lambs for breeding stock
Border Leicester Fleeces (covered to prevent felting)
Hand-spun yarn
Hand-knit items and special requests
Farm-sitting Services
Feel  free to contact me any time with your specific needs.
Send Message to listing owner