aBUNdance Acres Fiber Farm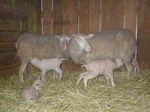 Business/Farm Name:
aBUNdance Acres Fiber Farm
Long Business Description:
We raise Finn Sheep — Breeding stock; fleeces; roving; yarn; custom-processed freezer lamb.
Giant Angora rabbits and French Angora rabbits.
We have grass/grain-fed Rhode Island Red chickens and brown eggs.
We also sell Kahaki Campbell Ducks and Duck Eggs.  Duck eggs are great for baking light and moist cakes and pastries.
Send Message to listing owner
Listing Title: aBUNdance Acres Fiber Farm